Headlines
How Pharmacies can Celebrate World Heart Day with Medicare LifeSense
23 September 2021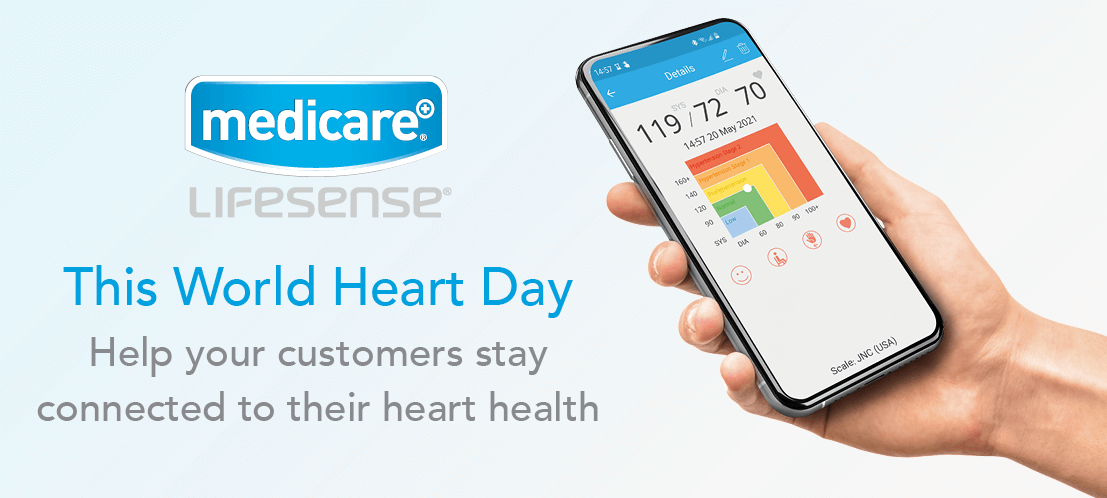 World Heart Day 2021 takes place on the 29th of September and is the perfect opportunity to encourage your local community to check in with their heart health.
What can pharmacies do to get involved this World Heart Day?
Offer free blood pressure readings in-store
Provide advice on how to stay heart healthy
Explain how to read blood pressure results
Download our social and in-store assets here
to help you promote Free Blood Pressure Checks in your pharmacy. You can also
contact us
for printed in-store materials like posters and customer blood pressure information leaflets.
Another way of helping your customers get a better picture of their health is with our
Medicare LifeSense App
and Bluetooth-enabled blood pressure monitors. Using methods such as Connected Health Apps, like the Medicare LifeSense App, encourages maintenance of a healthy lifestyle and promotes Consumer Enabled Health Management which empowers the patient and informs their carers and doctors about their symptoms. To learn more about Connected Health and how it benefits healthcare professionals, visit our recent blog post
here
.
The
Medicare LifeSense App
allows you to get a complete picture of your health. You can monitor activity, SpO2 (blood oxygen) levels, blood pressure, sleep and weight. You can either track these manually or use one of the Medicare LifeSense Bluetooth Connected products so measurements and readings can be automatically synced with the app. With the Medicare LifeSense App, you can measure, save, track and share your results with your caregiver, doctor or friends.
Win a FREE Medicare A7 Blood Pressure Monitor for your consultation room or to give to a lucky customer.
Enter your details here
and we will be in touch if you win the prize.