Headlines
One Step Ahead: Party Feet Range
15 December 2022

Find out how our Medicare Party Feet range will help your feet survive the hectic Christmas party season. Follow our
STEPS
acronym to help guide you through the best footcare practices and solutions to keep your feet happy and healthy.
Christmas party season is upon us, and you want to look your best. But in order to look your best you need to complete your to-do list. This will include choosing one of 20 outfits sitting in your shopping basket, begging the hairdressers to squeeze you in for an appointment, deciding tan or no tan, and ensuring make-up stocks are fully replenished.
But how will you answer the most important question of all, 'what shoes are you wearing?'
Before you answer that question, we plead with you to first think about your feet. We use our feet every day and rely on them for walking, standing, exercise and to balance. Caring for them and using specific footcare products will protect your feet and prevent any unwelcome foot conditions. Please keep in mind that if you are experiencing pain or have problems with your feet, please speak with your podiatrist or physiotherapist.
Follow our clever
STEPS
acronym to ensure your feet survive the Christmas party season.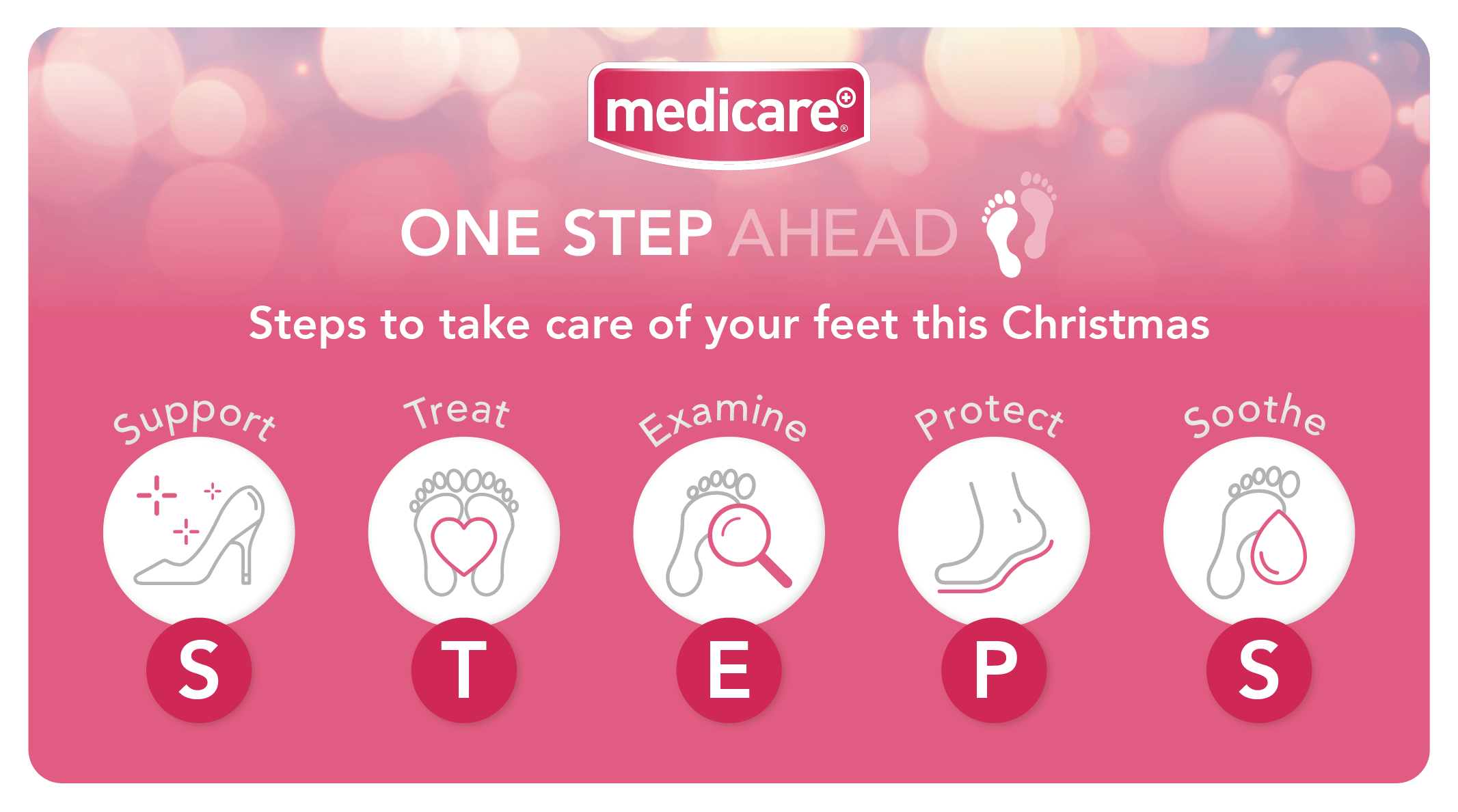 Choose footwear that offers
support
to your feet. Support will keep your feet healthy and happy. Be mindful that some shoes may cause irritation and blisters. Prevent these conditions from occurring with the help of our Medicare Party Feet range.
Our range can support your feet by preventing pre-existing conditions from worsening and reducing the risk of avoidable foot problems.
Our Solution:
Medicare Ball of Foot Cushions
Before you put on your stilettos or slip into your flats, ensure you
treat
any pre-existing foot conditions such as corns, calluses, warts, or verrucas. Neglecting these foot conditions can lead to them worsening and becoming more painful.
Our
Medicare Footcare range
have the best solutions to treat these conditions.
Our Solutions:
Medicare Wart & Verruca Removal Pen
Medicare Wart & Verruca Cryotherapy Pen

Examine
your feet and take note of any scrapes, blisters, bruises or swelling. Spotting these minor skin injuries early will prevent them worsening and becoming inflected. Promote fast healing and reduce pain with our footcare range.
Our Solution:
Medicare Hydrocolloid Extreme Blister Plasters

You'll need your feet to perform both on-and-off the dance floor throughout the busy festive period.
Protect
your feet using padding and heel strips. These solutions will act as shock absorbers and reduce friction.
Our Medicare Party Feet range will keep you on the dance floor all night with our variety of heel strips and padding cushions. Explore our
Party Feet range
and find the best product to protect your feet.
Our Solution:
Medicare Heel Strips
Soothe
and moisturise your feet to keep your skin hydrated. Caring for your skin will help prevent heel from cracking and protect your feet against calluses.
Our Solutions:
Medicare Foot Cream
Medicare Foot Gel
Following these simple
STEPS
will keep your feet happy while you get merry this Christmas party season.
Explore our full
Medicare Party Feet range
and
Medicare Footcare range
and findeffective footcare solutions that best suit your feet. Our extensive Medicare Footcare range has been scientifically developed with your comfort in mind. Whatever your feet need, we have the solution.