Introducing the New Physiologix Custom Support Range
12 May 2021

Physiologix is an innovative and dynamic tape and support sports therapy range developed and endorsed by chartered physiotherapists and professional athletes to aid in every stage of an injury whether it be prevention, treatment or recovery.
This diverse range incorporates advanced fabric technologies like the Ultimate Breathable AIRFLEX material and Custom Fit design to offer varying support and compression levels to help speed up recovery, reduce inflammation and ease pain caused by acute or chronic injuries.
Launched in 2017 by Fleming Medical, Physiologix is now recognised by the
Irish Society of Chartered Physiotherapists
and has grown to include over 100 products. The
tape range
includes Kinesiology, Sports, Cohesive and Zinc Oxide tapes in different colours and sizes that offer varying levels of compression and adhesion. The support range includes solutions for most body parts and has four levels in the range:
Essential
,
Advanced
,
Ultimate
and the newly launched
Custom range
.
Fleming Medical is proud to announce the launch of the new Physiologix Custom Support Range and new additions to the Ultimate Support Range, read below to learn more.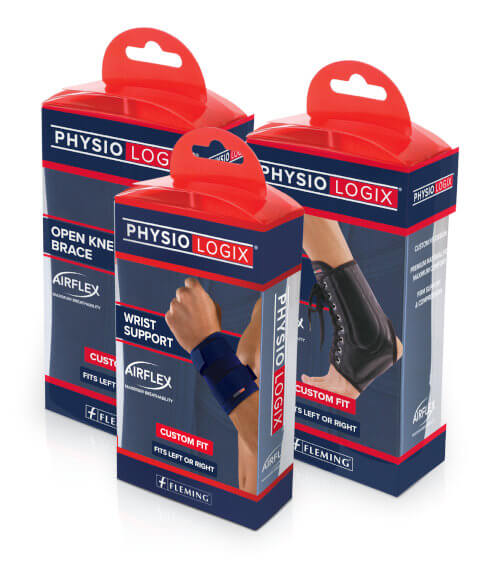 The
Physiologix Custom Range
provides a tailored fit and faster recovery through a unique therapeutic combination of a Custom Fit design and AIRFLEX technology.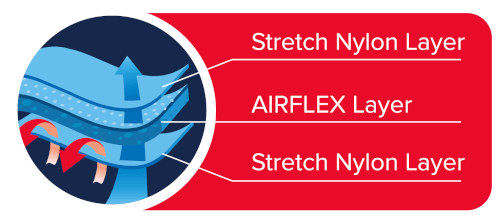 AIRFLEX is an ultimate breathable material that offers the optimal level of compression and heat retention to help improve blood circulation and reduce pain.
The Custom Fit design ensures perfect fit and minimises bunching. Lightweight and comfortable, it is suitable for all day wear.
While the
Ultimate range
has been a continued success in the Physiologix support collection, new styles have been added to widen the range and offer more choice.
The Ultimate Support Range offers firm compression and superior support. It uses AIRFLEX Technology which is an ultimate material that provides the optimal level of compression and heat retention to help improve blood circulation and reduce pain.
The Ultimate Range provide targeted recovery thanks to injury-specific supports for common ailments such as carpal tunnel syndrome, tennis elbow, jumper's knee, etc.
New
in the Ultimate Range:
Shoulder Support PX3506
,
Knee Support PX3511
,
Carpel Tunnel Brace PX3515
,
Back Support PX3518
,
Elbow Support PX3519
,
Thigh Support PX3520
,
Multi-Wrap PX3523.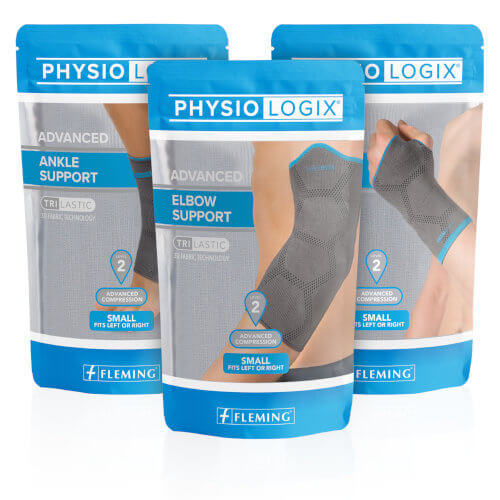 The Physiologix Advanced Range
provides moderate support and focussed hexagonal cell matrix compression which aids in injury recovery and prevention. It uses TRILASTIC 3D Fabric Technology to facilitate a comfortable and ergonomic fit.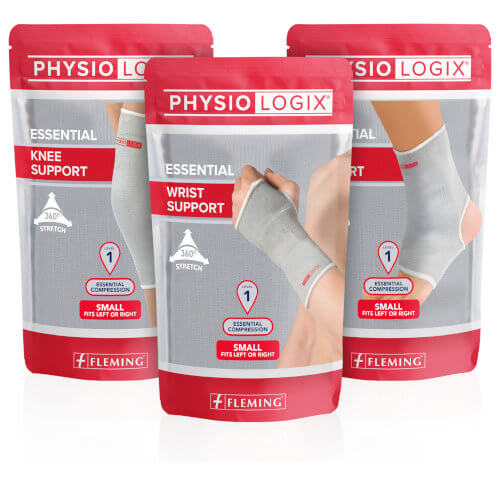 The Physiologix Essential Range
offers light support and uniform compression without restricting movement. Its 360° stretch and uniform compression prevents slippage and ensures a proper fit. It is an enhanced lightweight, breathable and durable stabiliser that provides support whilst helping to prevent re-injury.
Physiologix products can be found in leading pharmacies nationwide.
Click here to view our stockists
throughout Ireland and the UK.
To stay up to date on our new products, collaborations and training tips from professional athletes and chartered physiotherapists, follow us on social media: