Get Ready for Next Season
05 January 2023

The new year brings with it a new season of sport. Sports teams and athletes across the country are starting preparations for their upcoming competitive season. Find out how you can keep yourself and your team safe with our Medicare First Aid Sports Kit range.
Get Ready for the New Season
Emergencies can happen anytime, anywhere and the sports field is no exception. When a player suffers an injury in training or during a match, it's important that your medical team attends to them as quickly as possible. Ensure your medical team are fully equipped to treat the injured player with a fully stocked sports aid kit from our Medicare range. Our first aid kits suit every sports team from juniors to amateur and professional.

Medicare Physiologix First Aid Sports Kit
Our Medicare Physiologix First Aid Sports Kit is packed with all the
essentials needed
to treat minor injuries that occur on the playing field. It features a waterproof run-on bag. The bag has a large main compartment with additional front and side pockets. It also includes a water bottle holder at the side.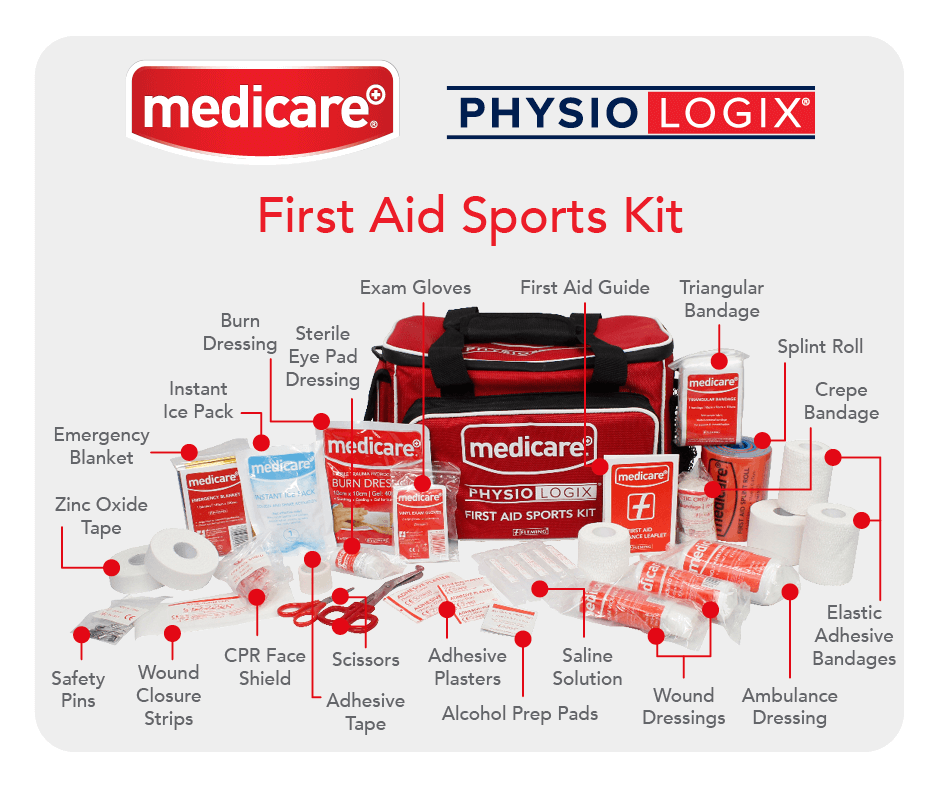 Medicare Physiologix First Aid Sports Training Kit
Our Medicare Physiologix First Aid Sports Training Kit is a waterproof run-on bag featuring one main compartment with front, top and side pockets for handy storage containing the below products.
Improve the level of support and care provided to your injured teammates by bolstering your first aid kit with some of our latest products. Explore our Medicare range to find the best solutions to suit your first aid kit.
Medicare Spray Plaster
The
Medicare Spray Plaster
protects minor cuts and grazes from water and dirt by creating a transparent, breathable film on the skin. It is ideal for hard to cover areas like elbows, knuckles, toes and knees. The Spray Plaster allows you to see how the cut is healing and gradually disappears as the wound heals.
Medicare Saline Solution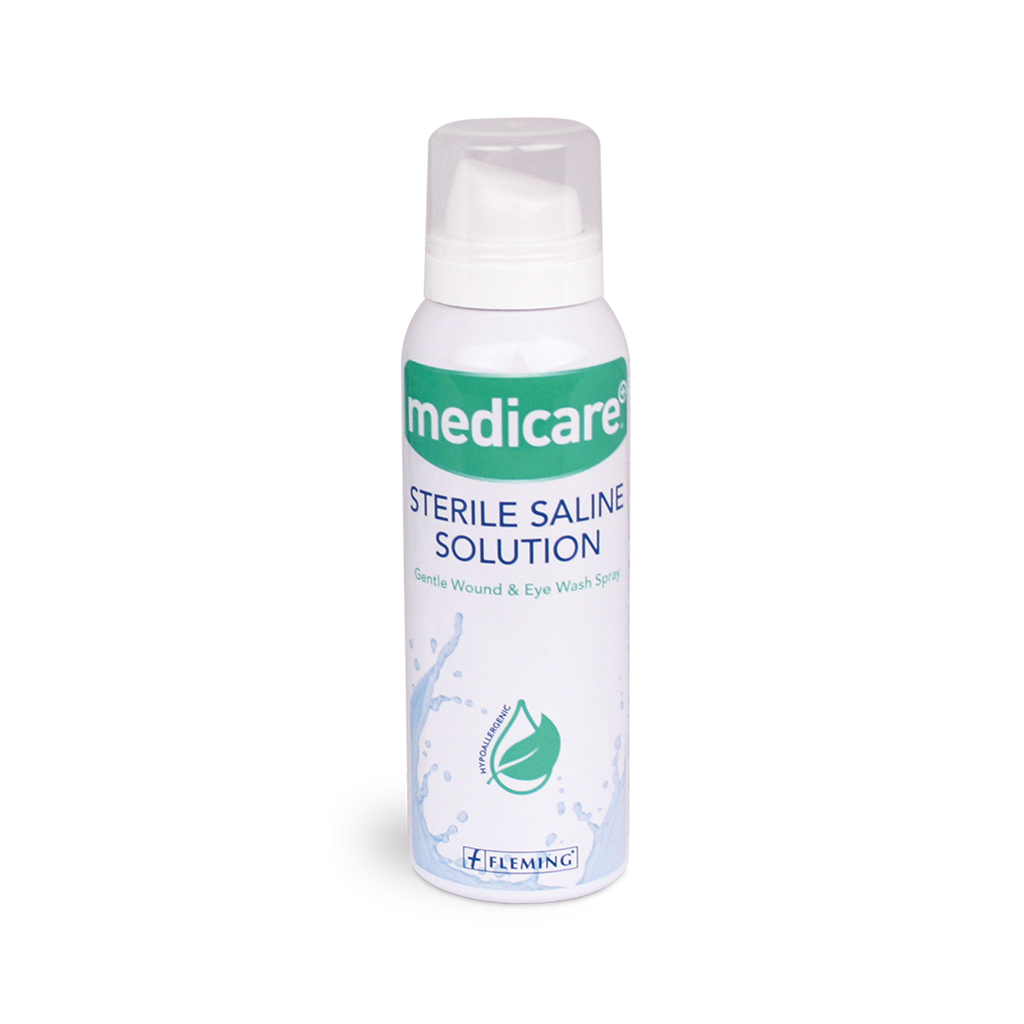 Our
Medicare Sterile Saline Solution
is perfect for rinsing and cleansing away dust and dirt from wounds and eyes. The spray physically removes foreign bodies, blood, reduces pathogens and dead tissue whilst also moistening the tissue in the process which contributes to wound healing. Bag-on-valve technology allows you to use every drop with a longer shelf life. No pumping motion needed.
Medicare Finger Splint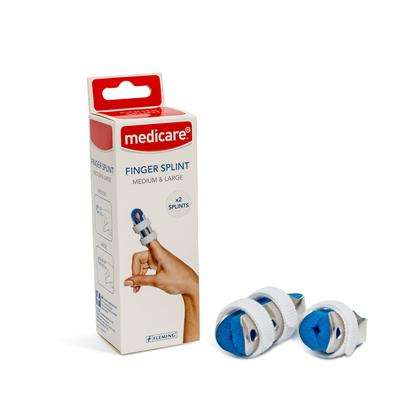 The
Medicare Finger Splint Medium/Large
are finger extension splints designed for us by individuals with finger injuries or disabilities. This splint features high-grade foam to absorb shock and is attached with Velcro straps.
Our
Physiologix
supports and tapes are a fantastic addition to any sports first aid kit. Having access to these products will provide reassurance and peace of mind when an emergency occurs.
Physiologix is a dynamic range of
supports
and
tapes
developed alongside physiotherapists and professional athletes. With the latest design and fabric technologies, they provide outstanding comfort and support to aid in injury recovery.
Explore our Physiologix range and find out what sports therapy products would be a useful addition to your first aid.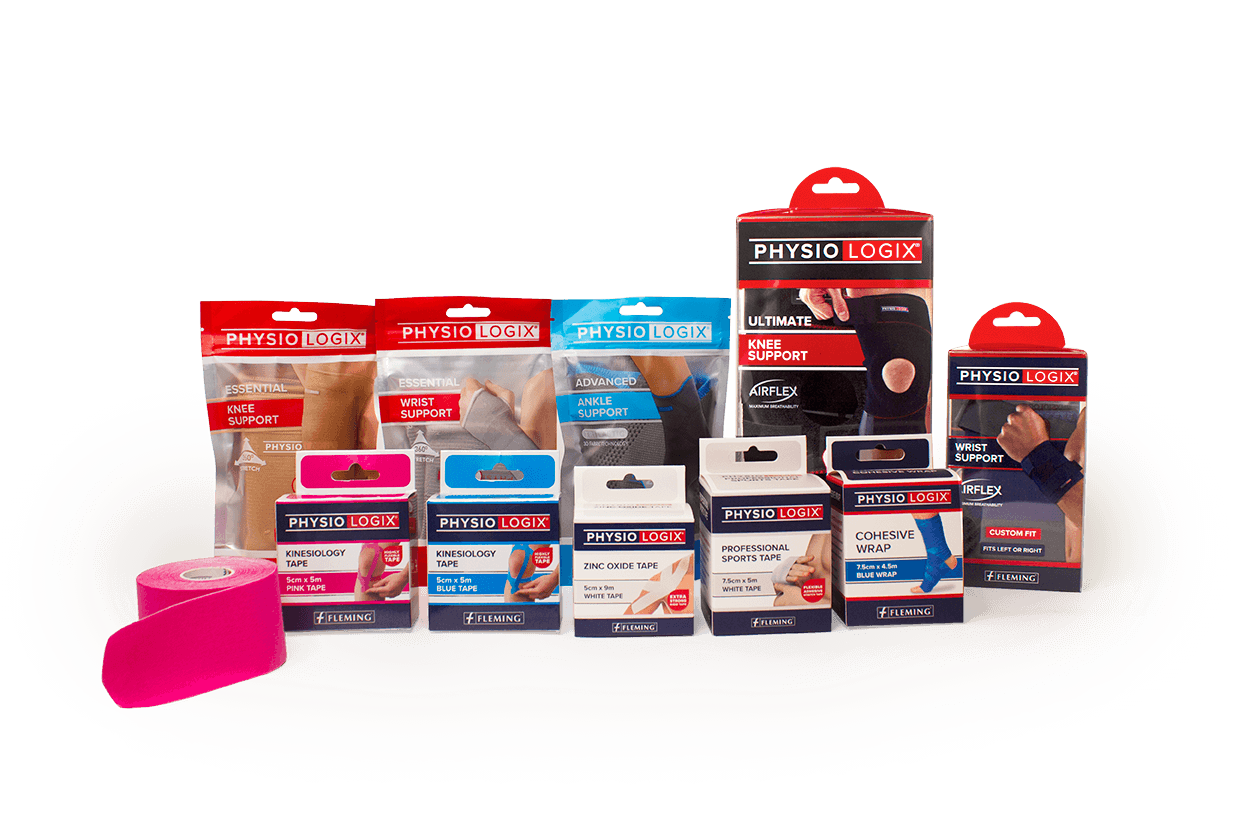 The support range includes solutions for most body parts and has four levels in the range: Essential, Advanced, Ultimate and the newly launched Custom range.
The tape range includes Kinesiology, Sports, Cohesive and Zinc Oxide tapes in different colours and sizes that offer varying levels of compression and adhesion.