Headlines
COPD Awareness Month
03 November 2022

This November is COPD Awareness Month. The chronic lung condition effects people from all over the world. Our blog brings light on the condition and highlights the solutions that our Medicare range offer to those who have been diagnosed with COPD.
What is COPD?
Chronic Obstructive Pulmonary Disease (COPD) is a disease that makes it difficult to empty air out of the lungs. Airways become inflamed and get smaller leading to airflow obstruction. This results in shortness of breath, coughing and tiredness because you are working harder to breathe.
COPD is a progressive illness. This means that the condition has different stages and symptoms become more severe and debilitating as it progresses. The earlier a patient is diagnosed the sooner they can receive treatment to manage the symptoms.
COPD is a term used to include chronic bronchitis, emphysema, or a combination of both conditions.
It is estimated that 380,000 people are living with COPD in Ireland.
Symptoms of COPD
Shortness of breath or wheeziness.
Chesty cough with phlegm
Regular chest infections
Breathing difficulties
Causes of COPD
COPD is generally associated with working in an environment where you've been exposed to smoke, pollutants, dust, or fumes. Exposure to particular types of dust and fumes in the workplace may increase your risk of COPD. For example, welding fumes and silica dust have been directly linked to COPD diagnoses.
However, smoking is one of the main causes of COPD. It is estimated that 80% of COPD cases are as a result of smoking. The harmful chemicals in cigarettes damage the lining of the lungs and increases the loss of lung function by up to three times the normal rate.
Treatments for COPD
The damage to the lungs caused by COPD is permanent. While there is currently no cure for the condition, there are treatments to slow the progression and manage the symptoms of COPD.
Below, we list some the medical devices and symptom management techniques followed by the solutions that our Medicare range offers to help people living with COPD.
Nebulised Medication
Nebulisers are one of the technologies available to assist COPD patients. The devices can be used to take medication that will help the patient manage their condition and the subsequent symptoms. The machine converts the liquid medication into a mist that can be breathed in through the accompanying mouthpiece.
Our Solution:
Medicare V2 Portable Nebuliser
The new and improved
Medicare V2 Portable Nebuliser
allows you to comfortably deliver medication discreetly and on the go. Its compact size fits comfortably in the palm of your hand but is still powerful enough to effectively deliver needed medication for respiratory conditions like COPD.
Innovative U-Shaped Medicine Cup ensures that medication is used thoroughly, and can be used at any angle
Fast Inhalation Time: ≥.2ml/min
Ultra-Fine Particle Size: 1-5µm which helps to penetrate deeper into the affected area
One-Click Disassembly of Medicine Cup: Easy to clean and disinfect
Dual Power Supply: Battery & USB Cable
Check SpO2 Levels
COPD patient can use Pulse Oximeters as a useful management tool to check their SpO2 levels. These readings will calculate the blood oxygen levels of the patient which can determine the functioning performance of their lungs.
Our Solution:
Medicare LifeSense Bluetooth Pulse Oximeter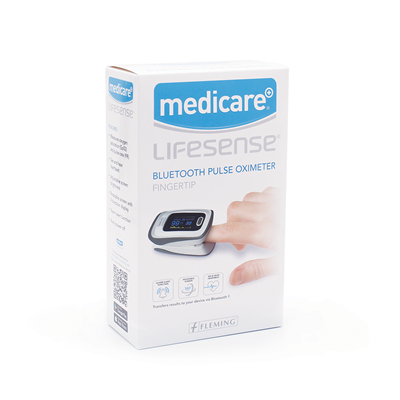 The
Medicare LifeSense Bluetooth Pulse Oximeter
is an easy to use, non-invasive and completely painless SpO2 test which gives you quick and accurate results within 10 seconds. The Bluetooth feature allows you to link the device to our Medicare LifeSense App. You can share the readings with your doctor, caregiver, or friends anytime, anywhere.
Measures oxygen saturation (SpO2) and pulse rate (PR)
See and hear heartbeat
Adjustable screen brightness
Rotatable screen with 4 direction display
Alarm alert function
Auto power off
Can be used to help manage COPD, Asthma, Pneumonia, Anaemia and Congenial heart defects
Air Quality Management
Humidifiers can help manage symptoms of COPD by maintaining a perfect level of moisture in the air while also reducing dust and allergens. The presence of dust and allergens in the air can irritate the lungs and exacerbate symptoms. Talk to your doctor before using a humidifier.
Our Solution:
Medicare Nimbus & Cirrus Humidifiers.
Medicare Cirrus Humidifier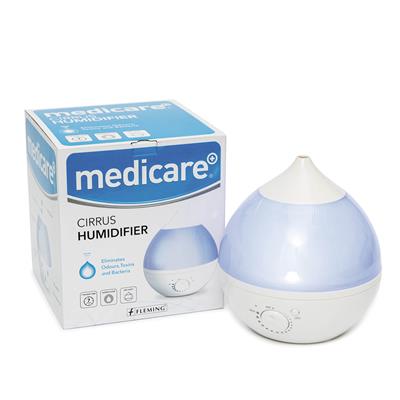 The
Medicare Cirrus Humidifier
creates a better home environment for those suffering from COPD . This humidifier also includes an essential oil diffuser. The natural benefits of essential oils along with soft LED lighting helps create a soothing and relaxed atmosphere.
Eliminates dust, toxins, bacteria, and allergens from the air
Removes unpleasant odours and smoke
Compact multi-colour LED light display to help create a soothing and relaxing atmosphere.
Capacity 1.7L
Area Coverage of 10-25m²
Mist volume dial
Includes a fragrance compartment suitable for essential oils
Medicare Nimbus Humidifier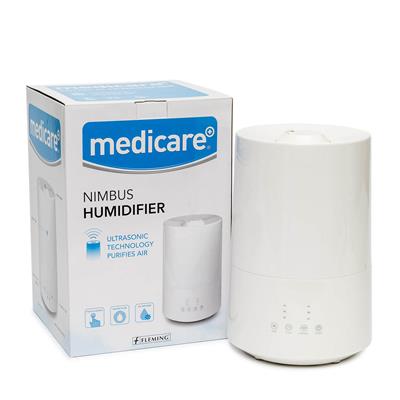 The
Medicare Nimbus Humidifier
removes dust and indoor air pollutants from around the home, office, spa and more to create a clean, hygienic air. Using the aromatherapy tray, the humidifier can also release a host of rejuvenating and soothing fragrance that refreshes and improves the indoor air quality and ambiance of any space.
Ultrasonic Technology purifies air
Distributes a mist to eliminate odours, toxins, and bacteria
Capacity: 3.3L
Area Coverage of 10-25m²
3 Timer Levels: 2/4/6 hours
Auto shut off feature making this the perfect device to soothe you to sleep
Includes a fragrance compartment suitable for essential oils
Heat setting option of warm/cool mist settings
Monitor Lung Performance
Peak flow is a measurement tool that allows you to test how quickly you can blow air out of your lungs.
Our Solution:
Airzone Peak Flow Meter
Measured in L/min
Suitable for adults and children
Features comfortable integral mouthpiece
Conforms to all peak flow standards including EN13826:2003
Useful Links
https://www2.hse.ie/conditions/copd/
https://copd.ie/