Measuring your SpO2 Levels at Home: Finger Pulse Oximeter Q&A
22 January 2021

Measuring your SpO2 from home has never been easier. Having a finger pulse oximeter is invaluable as you can now monitor your respiratory health without needing expensive medical equipment. Keep reading to find out more information on what a pulse oximeter is, how to use it, and other useful information.
What is a pulse oximeter?
A fingertip pulse oximeter
measures your pulse/heart rate and your oxygen saturation level (SpO2) in the blood. This means it checks how well your heart is pumping oxygen through your body.
Why would I need one?
It can be used to monitor any type of condition that can affect blood oxygen levels such as COPD, Asthma, Pneumonia, Lung Cancer, Anemia and Congenial heart defects. If you have an acute or chronic respiratory illness, it can monitor your SpO2 levels to see if your condition needs medical attention or is improving. It is designed to be used in the comfort of your own home so you can monitor your levels easily and efficiently.
How do you use it?
It is a non-invasive and completely painless test which gives a quick and accurate results within 10 seconds. Make sure you are relaxed, breathing normally and in a seated position. Simply clamp the oximeter onto your ring, middle or index fingertip. Make sure your nail is clean with no fingernail polish as it can obscure the results. The oximeter works best when it is at the same level as your heart. Press the button to deactivate sleep mode, wait for 3 seconds and your heartrate and SpO2 levels should appear on the screen. The oximeter sounds an alarm if your SpO2 levels are below 88% or if your pulse is lower than 40 beats per minute or higher than 120 beats per minute.
What the readings mean: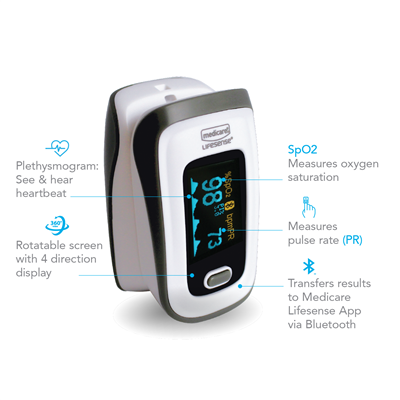 SpO2 Value: This shows your blood oxygen saturation level which should ideally be between 95 and 100%.
Pulse Waveform: This is a visual of your pulse rate
Pulse Rate Value: Your pulse rate/heartbeat per minute
Power Indication: This shows the pulse oximeters battery level. It takes 2 x AAA batteries.
Operating Button: The device has 3 modes, sleep, measure and power-off which is activated by the one operating button. When the oximeter is not used for 8 seconds, it enters into sleep mode.
What are the recommended levels that my pulse and SpO2 should be?
A normal reading of SpO2 is between 95% and 100%. For most of the population, between 60 and 100 beats per minute is normal. Your heartrate can be affected by common factors such as physical fitness, stress, anxiety, medication or hormones.
If you are ever in doubt about your readings, always consult a medical professional.